Since it's publication in 1957, Atlas Shrugged, the philosophical and artistic climax of Ayn Rand's novels, has never been out of print. It continues to receive critical attention and is considered one of the most influential books ever published, impacting a variety of disciplines including philosophy, literature, economics, business and political science.

A new 432-page book entitled, Ayn Rand's Atlas Shrugged: A Philosophical and Literary Companion is about to be released by Ashgate Publishing Company and the editor is Wheeling Jesuit University professor, Edward W. Younkins.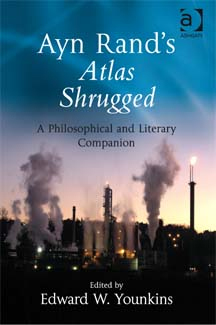 Younkins is also the author of Capitalism and Commerce, and is executive director of Wheeling Jesuit University's Institute for the Study of Capitalism and Morality.

Celebrating the 50th year of Atlas Shrugged's publication, this companion book by Younkins is an exploration of Ayn Rand's pivotal work. Contributions were specially commissioned from a variety of eminent scholars who admire and have been influenced by Rand's book. Younkins included essays that analyze the novel's integrating elements of theme, plot and characterization from many perspectives and from various levels of meaning.

The book consists of 36 articles by 36 different authors. Coincidentally, as any reader of the classic knows, there are 36 strikers identified in Galt's Gulch in Atlas Shrugged. The essays are grouped in the following sections: An Overview, Philosophy, Literary Aspects, Aesthetics, Political Economy, Human Relationships, Characterization, and History.

"A collection of this type is long overdue. Edward Younkins has exhibited an impressive vision in assembling this extraordinary book just in time for the 50th anniversary of Ayn Rand's masterpiece," commented Lew Rockwell, president of the Ludwig von Mises Institute.

David Boaz, executive vice president of the Cato Institute, adds "Atlas Shrugged has been called the most important novel of ideas since War and Peace. Now, more than 20 years after Ayn Rand's death, she and her great book are beginning to get the scholarly attention they deserve. This companion book by Younkins is a fine example of that."

October 10 of this year was the 50th anniversary of the publication by Random House of Ayn Rand's novel and after 50 years, it is still a popular novel with approximately 150,000 new copies sold each year, in bookstores alone. Respondents to a joint Library of Congress/Modern Library readers' poll in 1991 hailed the book as second only to the Bible in its significant impact on their lives. In addition, a 1998 Random House/Modern Library readers' poll placed Atlas Shrugged at the top of their list of the greatest novels of the century.

As of October 10, 2007, one edition of the great novel was ranked 107th among book sales at Amazon.com. A movie version of the book, starring Angelina Jolie in the main role of Dagny Taggart, is slated for release within the next two years.

"Edward Younkins appreciates the significance of Ayn Rand's novel Atlas Shrugged to so many disciplines and thus he has assembled an impressive collection of essays by distinguished experts in many fields to mark the fiftieth anniversary of Rand's monumental work," said Edward Hudgins, president of the Atlas Society. "Younkins understands the unique nature of Atlas; it is a great work of romantic literature, its plot shows in the concrete the importance of economic liberty and a morality of rational self-interest, it outlines an integrated philosophy – Objectivism – by which to guide one's life, and it offers a vision of the kind of life and world that this philosophy can produce. This collection is a welcomed volume for the millions who love Rand's magnum opus."

Aeon Skoble of Bridgewater State College explains that "Ayn Rand's complex philosophical novel, Atlas Shrugged, is hugely popular, yet intimidating or confusing to some people. By assembling this impressive collection, Edward Younkins has done something wonderful for both those who enjoyed the novel and those yet to discover it. Younkins and his collaborators examine many different facets of the novel, from the perspectives of a variety of different disciplines: literature, philosophy, economics, politics, history. This is sure to be a thought-provoking and conversation-stimulating anthology."

In addition, John Egger of Towson State University has observed that "Atlas Shrugged is a thrilling and, in my view, nearly indispensable part of courses on economics and government. Dr. Younkins's insightful collection of essays by experts in many fields will prove immensely valuable to teachers and students who use Atlas and to any reader who seeks deeper understanding of Ayn Rand's marvelous novel."

Younkins is a longtime professor of Accountancy & Business Administration at Wheeling Jesuit University and a resident of Wheeling. He's been a QL contributor since 2000. Ayn Rand's Atlas Shrugged: A Philosophical and Literary Companion is available on Ashgate Publishing Company's website, on Amazon.ca and on Amazon.com.