Powerful winds blow off the North Atlantic over the mountains of Northern Spain, and equally powerful ocean waves surge off both the northern and southwestern coasts. A strong tidal current flows through the Strait of Gibraltar, and Southern Spain is drenched in hot summer sun. There are companies demonstrating technologies all along the Spanish coast that can convert the energy of the ocean's waves into electric power. In Southern Spain, solar reflectors heat up a demonstration solar tower that resembles a giant chimney. Heated air flows through the tower and drives a turbine that generates electric power, but at extremely low efficiency.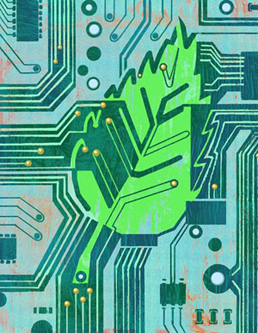 Many of the green technologies being demonstrated in and around Spain have the potential to operate viably and feasibly in a market that is free from state subsidies. In Brazil, the sugarcane fuel ethanol industry is now being touted as one that is able to operate free from state subsidy. That formerly subsidized industry had previously endured several years of ongoing debacles, all related to political interference. The rising world price of oil, when measured in energy unit per weight unit, eventually exceeded the price of sugarcane ethanol based on the same measurement.

The Brazilian government took advantage of a situation that could best be described as a lucky fluke. Without ongoing political upheavals in the Middle East and Afghanistan, the world price of oil might have remained below US$35 per barrel and Brazil's sugarcane ethanol program might have remained a state-subsidized basket case. Nevertheless, there are now claims that attest to the wisdom and brilliance of state economic planning with regard to Brazil's foray into green energy. It is now being held up as the model by which government can facilitate the transformation of a nation's economy.

Following the international upheavals of the previous decade, most western governments have in fact implemented policies and programs aimed at transforming their national economies using green-tech to generate new jobs and create new industries. Brazil provides the model upon which to base the formulation of such policies and the administration of such programs.