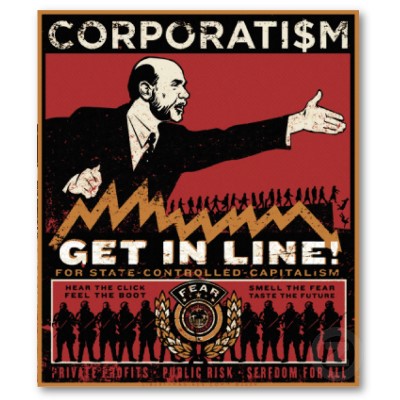 But a closer, honest examination of his policies and actions in office reveals that, much like the previous administration, he is very much a corporatist.

This in many ways can be more insidious and worse than being an outright socialist.

Socialism is a system where the government directly owns and manages businesses. Corporatism is a system where businesses are nominally in private hands, but are in fact controlled by the government.

In a corporatist state, government officials often act in collusion with their favored business interests to design polices that give those interests a monopoly position, to the detriment of both competitors and consumers.

A careful examination of the policies pursued by the Obama administration and his allies in Congress shows that their agenda is corporatist.

For example, the health care bill that recently passed does not establish a Canadian-style government-run single payer health care system. Instead, it relies on mandates forcing every American to purchase private health insurance or pay a fine. It also includes subsidies for low-income Americans and government-run health care "exchanges." Contrary to the claims of the proponents of the health care bill, large insurance and pharmaceutical companies were enthusiastic supporters of many provisions of this legislation because they knew in the end their bottom lines would be enriched by Obamacare.