And despite its title, Beam's article is far from entirely negative. For one thing, the author acknowledges our philosophy's deep historical roots. "Every political group claims the [American] Founders as its own," he writes, "but libertarians have more purchase than most. The American Revolution was a libertarian movement, rejecting overweening government power. The Constitution was a libertarian document that limited the role of the state to society's most basic needs." Beam further recognizes that "libertarianism is more internally consistent than the Democratic or Republican platforms," given that it encompasses both economic and social liberty. "There's no inherent reason that free-marketers and social conservatives should be allied under the Republican umbrella, except that it makes for a powerful coalition." It's a marriage of convenience, since libertarians actually straddle the current partisan split.

Alas, although most of the essay is fair and factual, and might well leave a reader feeling rather positive toward libertarianism, Beam jams his many criticisms into the final quarter of the piece. The gist of his attack is that libertarianism is "oversimplified," that it doesn't "deal with reality as it exists." In the end, he writes, "Libertarian minarchy is an elegant idea in the abstract. But the moment you get specific, the foundation starts to crumble."

It would take me a year to challenge all of Beam's illiberal beliefs in detail, but seeing as he himself provides little or no support for his (yes, oversimplified) arguments, the briefest of retorts should suffice. Here, then, are my bite-sized responses to 12 of Beam's arguments(1) against libertarianism: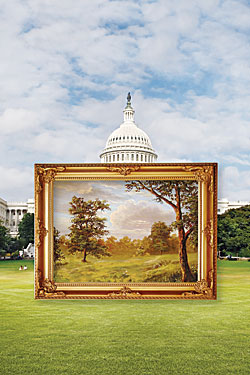 • Adopting a gold standard would lead to economic meltdown.

The only support Beam provides for this belief is that "most economists agree" with it. Whether or not he's right about what a majority of economists think, various gold standards did in fact exist prior to the First World War—and they were generally much more successful at avoiding economic meltdown than fiat currencies have been.

• We need a central bank to print money.

Without a central bank, Beam writes, "you'd have a thousand banks with a thousand different types of currency." He then adds, in parentheses, "Some libertarians advocate this," as though it were a crazy thing to advocate. But surely Beam is aware that the United States was without a central bank from 1837 to 1913, when the Federal Reserve was created. Canada did not have a central bank until 1934. And yes, in those benighted times, individual banks did in fact print their own currencies. But the sky did not fall, nor did chaos rein. As Robert P. Murphy points out in his recent response to Beam's article, "There are strong market forces limiting the number of different kinds of underlying money, because the whole purpose of money is to provide a common good against which all other items can be traded." (Emphasis in original.)

• The Federal Reserve was created in order to reduce economic uncertainty.

This bare assertion is surely the reason given to justify the creation of the Fed, but the crucial question is whether or not it succeeded in this task. Prior to its creation, booms and busts (aided and abetted by other government regulations) had usually been of short duration, normally lasting less than two years and never more than four. Subsequent to the creation of the Fed, we got the Great Depression, which began in 1929 and did not truly end until after WWII, sixteen years later. We also got stagflation in the 1970s, and of course, our current financial mess, which is far from over.

• Without a welfare system to cover basic needs, people will start stealing.

This is another bare assertion, but in a free market, all who are willing and able to work will find work at wages determined by market forces. Those unwilling to work but willing to steal are undeserving of sympathy and should be dealt with as the thugs they are. As for the small minority truly unable to work, they would presumably also be unable to steal. At any rate, they would have to rely on voluntary charity. The alternative is for government actors to steal on their behalf, which, for all its ersatz legitimacy, is no better from a moral standpoint.

• Without government schools, some people would remain uneducated.

That may well be, but with government schools, many remain uneducated today, diploma notwithstanding. A free market in education would reward good schools and good teachers. It would promote research and innovation instead of blindly adopting passing fads. It would provide accountability instead of helping mediocre educators hang on to their sinecures. And in general, as with all markets, it would drive prices down and quality up. More people would be educated, and better educated, in a free market.