Silas Lapham is a man from a humble background who has become rich through hard work. The story is set in a time period when many old fortunes were diminishing and when the newly rich were frequently wealthier than the old rich. Silas is a nouveaux riche, post-civil war millionaire who, along with his family, attempts to become part of Boston society. He is determined to place his wife and daughter among that cityís aristocracy. The novelís secondary but interrelated plot chronicles his familyís awkward attempts to gain acceptance into cultured society.

The book begins with reporter Bartley Hubbard interviewing Silas for an article on the businessmen of Boston. The self-assured Lapham is being profiled in this feature article and dictates his biography to the newspaper interviewer. When the upper class Hubbard returns home, he ridicules Lapham for his crudeness, lack of breeding, and simple upbringing. Hubbardís wife asks him not to make fun of the uncultured and inarticulate Lapham in the piece he is writing.

Through this interview, the reader learns a great deal about Laphamís past. Silas had been a poor child with a solid Christian background. He was raised on a family farm in rural northern Vermont near the Canadian border. His mother taught him the virtues of the Old Testament and Poor Richardís Almanac. In 1835 Silasís father, Nehemiah, discovered a mineral paint deposit. Nehemiah experimented with the paint and thought it had the potential to be profitable but unfortunately, at that time, people could not afford to paint their houses.

Silas travelled to the West as a young man, but returned to Vermont. He first worked in a sawmill and then as a stableman at a hotel. After his parents died, Silas moved to Lumberville where he drove a stage, bought and managed the stage line, and met and married the village schoolteacher, Persis. Silas married his ideal woman. Throughout the novel, he displays respect and high regard for all the women in his life: his mother, his wife, and later his intelligent daughter, Penelope, and his beautiful daughter, Irene. He is proud of them all.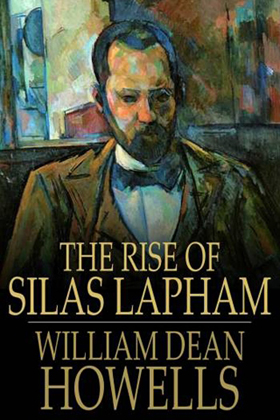 Lapham rented a tavern stand. In 1855, Persis urged him to paint the tavern he rented in order to improve its appearance. As a result, he investigated the paint mine on his fatherís farm, mixed up some paint, and tried it. He had the ore analyzed and found it that it was quite valuable. When he had it tested, he found that it contained 75 percent peroxide of iron, making it capable of withstanding fire, water, and acid. The demand for flame resistant paint had soared after many passengers were killed in boat fires in the West. Silas returned to Lumberville after he received the test results, sold out everything that he had, put it all into his naturally-superior, weather-resistant paint, and become a prosperous paint manufacturer. Silas named his brand of paint after his wife. After all, it was she who prompted him to develop the paint. He became the proud owner of a paint company called ďThe Works.Ē

Silas was confident that his wife could handle any situation. She encouraged, helped, and guided him in his various endeavors. Persis also acts as Silasís moral conscience throughout most of the novel. Her opinions carry great weight with him. His actions are greatly influenced by what he believes will please his wife. But the value of her contributions and her moral assessments diminishes as the story progresses.

When Silas left to fight in the Civil War, she managed the paint business for him. During the war, he fights gallantly, is wounded at Gettysburg, and is promoted to the rank of full colonel. Silasís friend, Jim Millen, died saving his life in the war. Millen took a bullet that was intended for Lapham. As a result, Silas felt an obligation to Millenís wife (Molly) and daughter (Zerilla). Later in the novel, we see Silas risk his reputation by supporting the dubious, alcoholic widow and daughter of the man who saved his life in combat. Rumor regarding Silas and two women led Persis to misread Silasís relationship with Zerilla, his typist.

Silasís business suffered during the war. When he returned from the Civil War in 1865, he found a changed business world characterized by rapidly changing dynamic markets, large firms, international trade, and strong competition. After the Civil War, there were more interconnections with suppliers and customers because of railroads, steamships, canals, etc., and distant and local events were affecting one another. He wanted to expand his business, but was reluctant to take on a partneróhe wanted to keep the business to himself. Persis convinces him to acquire a partner with capital to expand and to secure the company from failure. Against his own better judgment, Silas takes on Milton K. Rogers as a partner because he thinks his wife always knows best.

Silas saw Rogers as unknowledgeable about the paint business and as never having added value to the firm. His intuition was that Rogers would seriously harm the business if he remained with the company. After benefiting from the use of his partnerís capital, Silas gave Rogers the chance of either buying Silas out or selling out to Silas. Rogers was unable to buy Silas out so Silas bought out Rogers, paying him more then he originally invested. After Rogers left the business, Lapham became a millionaire during the post-Civil War period.

Persis believes that her husband used Rogersís capital to get rich and accuses him of unloading Rogers just before the price of paint soared. She thinks that Silas mistreated Rogers and never lets him forget that she is disappointed regarding his treatment of his former partner. She never truly forgives him for being unfair in crowding Roger out of the business. Persis believes that her husband had stolen the future profits that Rogersís investments had made possible. Throughout the novel she endeavors to make Silas see his ďmoral failureĒ and to pay back Rogers in some way. Persis thinks that Silas ruined Rogersís life through this transaction.

In no way is it self-evident that Lapham was unfair to Rogersóat most we could argue for an ambivalent interpretation with respect to his behavior. The business prospered but the partnership did not succeed. Rogers had an option and received a good deal more than he had invested. Lapham contends that he did nothing wrong in buying Rogers out just before the business took off. He says that it was a prudent business decision. Silas thought that Rogers was a hindrance and that he paid a fair price. Persis tries to make Silas feel guilty but it is uncertain as to whether or not there was any moral wrong to feel guilty about.

Lapham relocates his paint manufacturing company to Boston while maintaining the mining portion of the business on the family farm near Lumberville. Once his business is a success, the Laphams buy a house in Nankeen Square in the South End and their daughters, Penelope and Irene, attend public school. Penelope, the eldest daughter, is smart and witty, plain in appearance, likes to read and attend church lectures, and has no interest in high society. The beautiful Irene is three years younger, loves to shop, also (at first) has no interest in society, and is not as smart or witty as her sister. As the story progresses, the Laphams become social climbers.

Irene and her mother vacation on the St. Lawrence where they meet Anna Corey and her two daughters. Anna becomes ill and Persis cares for her until the doctor arrives. Annaís son, Tom, joins his family on vacation and appears to be captivated by Irene. On her return home, Persis tells Silas that she was impressed with the aristocratic Corey family. The chance meeting with the Coreys leads to a reevaluation of the Laphamís lifestyle, and Persis becomes conscious of the difference between her family and members of Bostonís upper class society. The barely educated, uncultured Silas has no personal interest in culture and society but loves his wife and daughters, wants them to be happy, and encourages them to approach society.

The Coreys are a prestigious, traditional, old money family who initially associate with the Laphams because of Persisís kindness to Anna on the Canadian trip. Annaís husband, Bromfield, is a snob who does not work and who has never worked a day in his life. He inherited wealth from his father, Giles Corey, a merchant who imported goods from India to New England. Anna had never been in the Laphamsí undesirable part of town. She is afraid that her son might marry one of the Lapham girls. Both Bromfield and Anna do not hold high opinions with respect to commercial people. The Coreysí fortune had dwindled and the Laphams were actually in much better financial standing than the Coreys. Rather than enter the business world, Bromfield sells a house and cuts back on some of his familyís social activities.

Although the Lapham girls were uneasy in society, Persis and Silas thought that their daughters needed to be introduced to society and that it would be best for them to move from their old house in South End and to build a new house in the Back Bay area on the sophisticated and exclusive Beacon Street. They decided to build a mansion on the water side of Beacon Street. To Persis and Silas, this new house represented Penelope and Ireneís futures in upper class society. They thought that moving to an elite neighborhood would place the family in the center of society. They did not realize that it would take more than money to break social barriers. For example, the resentful Mrs. Corey remarked that Back Bay is becoming very common these days.

Silasís old partner, the unscrupulous Rogers, shows up and asks for help. Silas lends money to Rogers and accepts as collateral land (i.e., a deed to mill property out West) and questionable securities that he believes to be worthless. Rogers indeed has pledged worthless land and watered stock as collateral. Overlooking the risks, Lapham makes this and additional loans to Rogers throughout the rest of the story. It is unclear if Silas makes these loans out of a true sense of guilt and wrongdoing, or to gain approval from his wife. Although Silas listened to his wife to lend Rogers money, it is not evident that down deep he believed that he had done anything wrong.

Persis views the income earned after Rogers was ďforced outĒ to be a result of Rogersís capital investment. She believes that money was taken from him, and she attributes all of Rogersís subsequent financial failures to her husbandís actions. Persis thinks that Silas lends money to Rogers as an attempt to ease his guilty conscience due to his forcing Rogers out. As a result, she begins to forgive Silas and to view him as a moral person again. Over the years, she has scolded her husband for his inability to share his paint company with anyone.

On the other hand, Silas consistently maintains that his buyout of Roger was a business transaction in which he acted justly. He explains that Rogers did not contribute to the business and was not a benefit to it. It may be that he got involved with Rogers a second time because he wanted to please his wife, who attempts to serve as his moral conscience throughout the novel.

The Coreys and the Laphams continue to get involved socially. Both Irene and Penelope are attracted to Tom Corey. Because the Coreys are running low on money, Tom does not want to continue drawing upon his fatherís wealth, and therefore tells his father that he is going to ask Silas for a job. Tomís parents think that his desire to work for Lapham might be because of his attraction to Irene. The Coreys think that it is wrong for Tom to be interested in the uninteresting, dull, and socially-inept Irene. Anna does not want Tom to work for Lapham or to marry one of his daughters. She perceives Irene as vapid and Penelope as introverted.

Silas, who does not waste time and is devoted to hard work, criticizes Tom Corey for not working. However, the uneducated Silas is impressed with Tomís knowledge of several languages. Tom had travelled extensively abroad and was fluent in several languages. Tom believes in the paint business and asks Silas about his entering the business. Tom wants to enter a profession that he can be passionate about. He wants to do something with his life.