McCall is a notorious financial maverick and mysterious millionaire who buys depressed companies, makes changes to them, and sells them to make profits. He acquires companies in order to sell them rather than to operate them. He adds value by making companies more effective and/or by taking advantage of overlooked opportunities. Cash McCall's name has become legendary and he has become the subject of much gossip, rumor, and innuendo. Many people call him a pirate and believe that he is an evil, unprincipled, and immoral man. Others are jealous and envious of him. Throughout the novel the reader, as well as characters in the book, discover the true character of McCall, what he represents, and what he stands for.

In the novel we meet the weary Grant Austen, who is worn down by the responsibilities of running his company, Suffolk Moulding, a small family-owned plastics company. The only two owners are Grant and his daughter, Lory. Although Grant Austen appears to be in a rut and is not a great businessman, he is not exactly ready to retire. However, he does fear that he is in danger of losing a vital contract.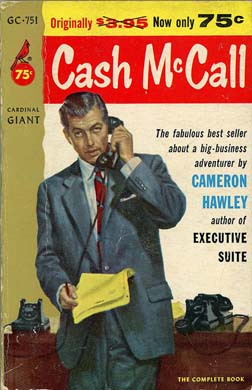 Austen's largest customer, Andscott Instrument Corporation represents around 60 percent of Suffolk's business and wants Suffolk to produce a new, larger television cabinet. In order to do so, Suffolk would need to install a new press costing a quarter of a million dollars. General Danvers, Andscott's President, threatens to take all of his business to another company if Suffolk does not do as he says. Later in the novel we discover that Danvers was bluffing about moving his business elsewhere—he knew he could not because of certain patents that Austen owned.

While reading a newspaper, Grant Austen sees an ad that gives him the idea of selling his company. He discusses this idea with his daughter, Lory, and then he tells Gil Clark, a management consultant with Corporate Associates, that he is contemplating selling his business and retiring. During their discussion, Austen does not disclose to Clark the precarious situation that Suffolk is in with Andscott. He wants to create the image that he simply wants to retire. Gil estimates to Austen Clark that two million dollars would be an extraordinary amount to receive for his company. In a later conversation in the novel, Will Atherson, President of Freeholders Bank and Trust Co. of Philadelphia provides Austen with a similar estimate of Suffolk's value. Atherson, who has worked with McCall, tells Austen that he could be lucky to get that amount.

Gil Clark is a young management consultant with integrity who understands the moral and practical value of capitalism, business, and careers in business. He realizes that business can improve human existence through the production of increasingly better products that contribute to the fulfillment of individuals' lives. In the beginning of the novel Clark does not know that McCall owns the consulting firm that he works for.

Harrison Glenn, Gil's boss and President of Corporate Associates, suggests Cash McCall to Gil as a potential buyer of Suffolk and arranges for Gil to meet with McCall over lunch. In the beginning of the story Gil is skeptical and has a negative impression of Cash based on hearsay. He thinks that McCall is a person who would not hesitate to throw an entire community out of work if it meant making a quick profit. This attitude soon changes to approval when he meets with McCall and sees him in action.

When Gil meets Cash he finds him to be a moral businessman and a true gentleman who treats all parties in a business deal with justice and fairness. Cash inform Gil that he is the owner of Corporate Associates. Impressed with Gil's character and business, Cash offers him a job as his assistant.

Gil explains to Cash that he has no objection to making money. In response, McCall proclaims his agreement with this view: "In case there is any doubt in your mind, Gil, I don't belong to the better circles. I'm a thoroughly vulgar character—I enjoy making money." (153).

Cash then scolds America for its ambivalence regarding capitalism and business:
"We have a peculiar national attitude toward money-making… We maintain that the very foundation of our way of life is what we call free enterprise–the profit system. We're so serious about it that we'll fight to preserve it – literally go to war – but when one of our citizens shows enough free enterprise to pile up a little of that profit, we do our best to make him feel that he ought to be ashamed of himself.

…it still strikes me as something of an anomaly that here, living under the profit system—fighting and dying to defend it—we've come now to regard the accumulation of profit as a crime against society. It's gotten to the point now where the only way a millionaire can expiate his sin is to endow a charity or a cancer research foundation." (154)
McCall does not condone the government's numerous and arbitrary tax laws and other regulations but he abides by and adapts to them, and profits while so doing: "I don't make the rules Gil, I only play the game. I never thought much of the kick-for-point after touchdown, either, but as long as it's in the rule book, that's the way the game is played." (164)

Will Atherson, McCall's banker and friend of Grant Austen, is advising Austen regarding what to do with his company and tells Austen that he thinks that Cash McCall might be interested in buying the company. Of course, Gil Clark has already brought the possible acquisition of Suffolk Moulding to McCall's attention.

Atherson calls Cash to tell him about Austen's company and mentions that Austen is meeting his daughter, Lory, at three o'clock in the lobby of the hotel where Cash resides. Lory and Cash had a brief romantic relationship in Maine prior to the events of the novel. Cash and Lory spot each other in the lobby at the hotel—she has no idea that McCall is the person interested in buying the company.

Lory and Grant Austen go with McCall to his apartment to discuss the possible sale of Suffolk to McCall. There Lory, an illustrator of children's books, sees the frontispiece drawing she had done for a novel hanging on his wall. The drawing is clearly a portrait of Cash McCall. Austen makes Cash aware that he and Lory are the sole stockholders in the company and McCall informs Austen that he is the owner of Corporate Associates where Gil Clark had worked and who has been advising Austen on business matters. Cash wants to make certain that Austen is aware of the potential for bias in Clark's business advice. Cash explains that he had discussed the possible purchase with Clark and that Atherson's suggestions to Austen of McCall as a potential buyer are just coincidences. Austen states that he is only willing to accept money, not stock, for his company. General Danvers of Andscott was interested in buying Suffolk but he was only able to offer stock in exchange for the company. Austen fails to inform McCall about the possibility of Andscott pulling out its business. Cash offers Austen $2 million and the deal is sealed by a handshake.

Lory Austen for years had wanted to be independent of her parents, and the sale proceeds of her ten percent ownership in Suffolk (i.e., $200,000) could at least provide her with financial freedom. In turn, Grant Austen's wife, Miriam, yearns to be free of her daughter. Possessing an unhealthy jealousy of her daughter, Miriam wants to have Grant all to herself. She resents the late night talks about business in which Lory and Grant frequently engage. Miriam does not know that Lory also dreads their late night talks. Lory wants to travel to Italy to develop her talents as an artist. Miriam views McCall as potential marriage material for Lory.