Glorious weather helped lend a joyous and carnivalesque atmosphere to the massive demonstration that wound its way through the streets of Montreal on March 22. One protester carried a sign that read "Printemps Érable," a uniquely Quebecois play on the French for Arab Spring (printemps arabe) that translates as "Maple Spring." The elation of that enormous outdoor party with its sea of red must have contributed fleetingly to a feeling of impending triumph. But as the more typical cold of a real Quebec spring returned in the days that followed, so a mood of hard work and desperation returned to the strikers. Posters have gone up around the UQAM campus exhorting the boycotters not to give up, but the temptation to do just that must be growing daily.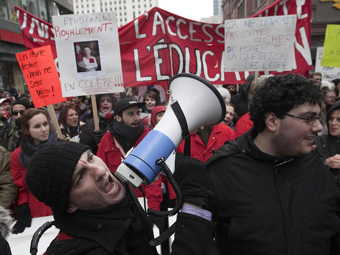 Many students, of course, were never on board with the protests to begin with, but lacking a formal organization and unified message, their actions get less attention. Nevertheless, Laurent Proulx, a student at Université Laval, did make headlines when he went to the trouble of seeking and winning a court injunction against the students who were blocking access to his anthropology class.

Last week, the Université du Québec à Montréal finally sought a legal injunction against the students who have several times blocked access to entire buildings on campus. At McGill, students have illegally occupied administration buildings. In a particularly bizarre move, a group of protesters held the staff of the Montreal Economic Institute captive in their offices, presumably to register their discontent at the enormous influence the free-market think tank wields in the corridors of provincial power...

One hears people say that the decision to walk out of classes was taken democratically by the student organizations, and therefore no student can legitimately attend classes while the strike continues. But of course the students have not entered into anything like a contractual agreement to respect the decisions of the general assemblies of their student unions, much less the decisions of their union executives. For all the bluster of the student organizations, they simply are not that kind of organization.

The frustration of students like Laurent Proulx highlights a key aspect of the "strike" that deserves serious scrutiny. The strike is not a strike at all: it's a boycott. Nothing therefore should prevent students who have not consented to the action from attending their classes, and of course nothing should prevent professors from giving those classes. But they are prevented, and often by force, by the "strikers."