As they see things, our modern-day genetically-modified "corn-utopia" is soaking up a rapidly vanishing petroleum pool while delivering junk food, cancer epidemics, rural poverty, and agricultural pollution. The way forward, they tell us, actually requires several steps backward to a simpler time when consumers personally knew and trusted the farmers that fed them…

Fortunately, the locavores' dire vision is at odds with the relevant data. Although it undoubtedly pains most of them to hear this, we live (much) longer and healthier lives than our ancestors; the overall state of our environment has improved significantly over the last century; and our food supply is cheaper, safer and more secure than ever before.(1)

In our book The Locavore's Dilemma: In Praise of the 10,000-mile Diet (reviewed for this blog by Alex Epstein), we draw on economic logic and basic scientific, geographical and historical facts to illustrate how the long-distance trade in foodstuffs played a critical role in bringing about such positive trends. What the world really needs, we argue, is to get rid of trade barriers, agricultural subsidies and uneconomical and environmentally unsound policies such as the ethanol mandate so that more food can be produced more cheaply in the world's best locations by ever more efficient farmers.

Politically Incorrect Debate in Full Swing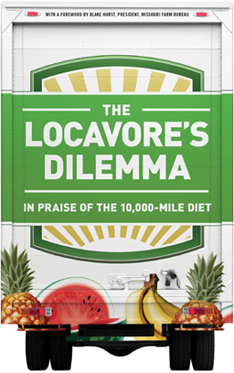 To our surprise, our politically incorrect piece of work received much (and by and large fair) coverage. Of course, many diehard locavores quickly denounced us as paid shills of Monsanto. A prominent Canadian food activist called us "baby killers" to our faces. An anonymous reviewer on Amazon.com was in such a hurry to point out the errors of our ways that she didn't notice that the book was co-authored.

Someone else even accused Hiroko of being a Chinese spy because of a student exchange program she participated in over a quarter of a century ago! To modify somewhat the old legal pun, when you don't have either logic or facts on your side, fill the comment section of websites with ad hominem attacks.

As could also be expected, a few negative reviews in prominent outlets distorted or omitted some of our key arguments. Luckily, the mastermind behind Master Resource gave us the opportunity to address them concisely. So here goes:

- Locavorism is not really about geography

Writing in The American Prospect, Sarah Laskow accuses us of taking a very narrow (i.e., geographical) view of "local food," whereas to food activists "buying local has mostly been a convenient shorthand for buying food that's grown in a more broadly sustainable way." Well, guilty as charged on this one. It is apparently very difficult for an old-school geographer (not to say most dictionaries) to interpret "local" as anything other than something related to a particular place.

Of course, one of the main goals of geography as a discipline is precisely to help people understand that no two places are exactly alike. Geographical differences, in turn, give us the opportunity to produce things (whether crops or livestock) more effectively in some areas than others.

The result is not only more food for less money, but also significant environmental improvements as long-distance trade has long made it possible to relocate countless productions from less desirable to more desirable locations (say, when grain production was moved from hilly, rocky and erosion-prone terrain to flatter regions endowed with better soils and better climate).

- Feeding a straw man to our readers

Most locavores, it turns out, don't really want to give up coffee, chocolate and orange juice. And not all of them are romantic luddites – after all, what are urban vertical farms if not revolutionary (despite the fact that the basic concept has been around for something like a century and never profitably acted upon…)!

True, we do make the case against going completely loco, but our goal is not to set up a straw man; it is rather to illustrate that less of a bad thing does not make it a good thing. In other words, if most locavores do not want us to drink a whole bucket of arsenic, they nonetheless insist on a few glasses. Moderation in such cases, however, hardly makes for a healthy prescription.