The part of it that I don't get is where I'm supposed to cheer for the guys and gals who are "representing" Canada. I'm supposed to feel disappointed when these fine young men and women fail to live up to expectations, and I'm supposed to be happy, even proud, when they make it to the podium. And people from other nations are supposed to feel these emotions for the athletes "representing" them. Well, not only do I not feel anything special for Canadian athletes, but I would go so far as to say that such seemingly innocuous nationalistic sentiments are a big part of what's wrong with the world.

Nationalism by Any Other Name
For my money, foul-mouthed stand-up comedian Doug Stanhope put it best: "Nationalism does nothing but teach you how to hate people that you never met, and all of a sudden you take pride in accomplishments you had no part in whatsoever…" Now granted, the Olympics are not so big on the hate. But why should I, simply because I'm Canadian, take pride in the fact that Canada hauled in 18 medals? And should I feel a little less proud because only one of them was a gold? Of course, strictly speaking, "Canada" did not win 18 medals. Rather, Canadian athletes won 18 medals. But why should "we" care one way or the other, much less feel vicarious pride? We didn't build that.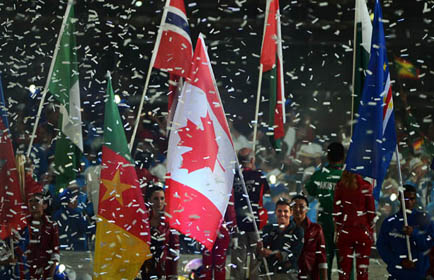 To be clear, I'm not against sporting events per se. I actually like sports, both playing them and watching them. I like watching basketball and American football, and I even root for certain teams (the Celtics and the Patriots). I enjoy watching my fellow human beings perform incredible feats of strength and agility, and struggle to summon extra energy or settle frazzled nerves. Watching tennis star Na Li rally from a 1-5 deficit in the deciding third set of her semi-finals match at the Rogers Cup in Montreal this weekend to win six straight games and take it 7-5 was both exciting and inspiring. I like the way Na Li plays—I refuse on principle to place her family name first, regardless of what is done in her nation—and she's got a pretty quick wit, too, judging from the times I've heard her speak. Why should I give a damn what her nationality is?

I did watch some Olympic tennis, including the record-breaking third set of the match between Milos Raonic and Jo-Wilfried Tsonga that took 48 service games to decide. I was impressed that Raonic could give Tsonga such a run for his money, but the fact that we are countrymen was the furthest thing from my mind. In fact, I was happy that Tsonga finally won the match. I enjoy his style of play, and he's actually my favourite player on the men's tour at the moment. Different nationality, different mother tongue, different skin colour? I literally could not care less.

What about the host country? In an article in the Globe and Mail, Doug Saunders wrote of the "mood of national euphoria" in England following the closing ceremonies, and of the "ineffable value of having organized a very large, very happy event with virtually no flaws, and having looked very good before the world—something that Britain once took for granted, and is likely to enjoy remembering for some time." The implication is that Britain should feel proud of the great job it did hosting the Games.

But again, did "Britain" host the Games? Did "the British people" host the Games? No. Some small subset of specific individuals organized the event, for better or for worse. Why would every Brit deserve credit for that? Now, British taxpayers did foot the bill, whether they wanted to or not. And what a bill it was, totalling some $14.5 billion. (You can forget about any economic stimulus from hosting the Games, by the way. As Saunders tells it, the prospect of daily Olympic crowds of 100,000 kept at least 300,000 non-Olympic tourists away.)