Subsidy-Free City Passenger Transportation Services in the Developing World

Most municipal passenger transportation services in the industrialized world today operate with governments providing subsidy payments to cover the system's operating costs. Prior to WWII, however, practically all municipal passenger transportation services were cost competitive and covered operating costs from the fare box, with subsidized service being a rarity. The history of commercial passenger transportation services within cities can be traced back over a period of centuries, with animals pulling passenger wagons along unpaved pathways or walking along paths next to riverbanks and pulling barges that carried goods and passengers.

Beginning in the early 19th century, private entrepreneurs developed many ways by which to make their city transportation services more efficient and more profitable. They discovered that the same animal could pull a heavier load when the wagon rode on rails instead of on earth road ways and the result was a proliferation of horse-drawn streetcars along main routes, with horse-drawn buses serving the lighter routes. Horse-drawn barges were popular in cities with navigable canals and could carry heavier payloads than wagons on rails. The major advance in city passenger transportation services occurred in the late 19th century with the development of the electric motor and DC electric power.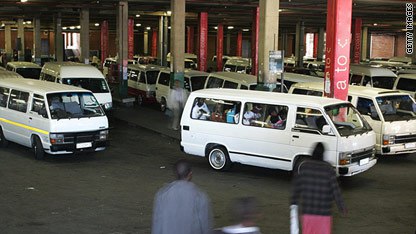 By 1890, electric streetcar services replaced horse drawn streetcars and could offer passengers greatly reduced travel times at lower cost at a time when the only private automobile was the horse-drawn buggy. Private city transportation services remained attractive and profitable long after the development of battery-powered, steam-powered and gasoline-powered automobiles. The development of a social freeway system after WWII began to erode ridership aboard privately owned passenger mass transportation systems, with the number of subsidized services increasing dramatically in the USA and other developed nations after 1970.

During the period of viable commercial passenger transportation services, city transport vehicles were operated by a two-person crew of driver and conductor who collected fares. As socialized competition in the form of private cars riding on government roadways gained riders, many city transportation operators in developed and even in a few developing nations replaced the two-person crew with a one-person crew to operate the vehicle and collect the fares, essentially borrowing a practice from the taxi industry that dated back to the time of horse-drawn cabs. The one-person crew became an evolving trend in commercial city passenger transportation service vehicles in developed nations.

Entrepreneurial Transit Services

But the developing world seems to operate on a different set of rules, including in the area of privately provided passenger mass transportation services. The South African taxi-van industry that began during the later years of apartheid is one example. While an earlier South African government attempted to regulate that industry, the combination of mass entry by entrepreneurs and mass protests that turned into riots resulted in another South African government adopting a "hands-off" policy for the 250,000-vehicle South African taxi-van industry. An entrepreneurial free market essentially prevailed for many years in that industry, and to an extent, still does.

"While regulation-free, subsidy-free taxi-vans may be able to connect many small communities to larger cities, the regulators do not allow such services to emerge."

On a recent visit to South Africa, this author visited the taxi-van industry and traveled aboard the taxi-vans inside cities. The vehicles are of Asian origin and carry 12 to 16 passengers, with 4-cylinder engines and manual transmissions that included a 5-speed gearshift lever mounted on the steering column (5-on-the-tree). While the interior of the old taxi-vans was 3-seats widths, the interior of the later wider models were designed for 4-seats widths. The floor of the later wider taxi-vans was lower, the combination of greater width and lower centre of gravity giving the vehicles greater stability. While the narrower, older taxi-vans are still common in city services, the later, wider and lower-floor taxi-vans operate the intercity passenger services.

Although the city transit fare level aboard the unsubsidized taxi-vans is only marginally higher than the city transport buses, the flexibly scheduled taxi-van service is fast and frequent. While the city transport buses operate with one-person crews, the unsubsidized taxi-vans operate mainly with two-person crews with the fare collector announcing the destination at each main stop, and also at main road intersections. On public holidays, the city transport buses are parked in the garage, whereas most of the taxi-vans carry a capacity load of passengers. During rush hours, this writer observed that practically none of the city buses in Cape Town carry a standing load of passengers.

Intercity Services

Taxi-vans carry some 60% of intercity travelers in South Africa. While the earlier, higher and narrower 3-seat width vans had a propensity to overturn quite easily when driven into a road curve at speed, the wider and lower 4-seat width vehicles have a superior performance record. Competing intercity buses provide services between major cities with air-conditioned double decker buses that tow luggage trailers, providing premium services. While the departure times for premium buses may be inconvenient at some cities, the taxi-vans seem to operate at more convenient departure times and usually leave with a near-full load of passengers. Taxi-van departure times are often frequent and convenient, with some operators using the Internet to find riders.

While a few private van owners based in some large Canadian cities have borrowed the precedent from the South African taxi-van industry and offered intercity passenger transportation services, law enforcement authorities have acted to protect the commercial interests of the long-established companies that actually provide inefficient service, or no service at all to small communities. While regulation-free, subsidy-free taxi-vans may be able to connect many small communities to larger cities, the regulators do not allow such services to emerge. Taxi-van services may also be able to provide convenient city and suburban passenger transportation services within and around main cities, but federal, provincial, regional and municipal authorities can be counted on to continue creating obstacles to prevent such services from emerging.
From the same author

▪ Welfare, Education, and the Appeal of Gangs in American Cities
(no 317 – December 15, 2013)

▪ The Rise of Teen/Adolescent Suicide and Mental Illness
(no 317 – December 15, 2013)

▪ State Economic Control and the Electric Power Feed-in Tariff
(no 316 – November 15, 2013)

▪ The Alleged Downstream Benefits of Government Investment In Industry
(no 316 – November 15, 2013)

▪ Social Responsibility and Clothing Manufacturing
(no 315 – October 15, 2013)

▪ More...

First written appearance of the word 'liberty,' circa 2300 B.C.

Le Québécois Libre Promoting individual liberty, free markets and voluntary cooperation since 1998.