The Failing Dream of a Nation: South Africa after Apartheid

It has been almost 22 years since South Africans and the world celebrated South Africa's first post-apartheid election, which resulted in former freedom fighter Nelson Mandela achieving the post of that nation's first black president. There was great hope across the country of new economic development and the promise of prosperity for the formerly oppressed people. While apartheid distinguished people on the basis of skin colour and racial ancestry, it was also a form of economic regulation that restricted members of certain designated racial groups from living in certain areas and entering into several professions.

Yet all has not gone according to plan in the intervening years. For example, during the apartheid era, the value of the South African currency, the Rand, was much higher than it is today. In 1970, one Rand was equivalent to C$1.40, while today C$1.00 is worth over 12 Rand. Julius Malema is a charismatic South African parliamentarian and leader of the political party known as the Economic Freedom Fighters (EFF). For several years, he had served as an executive member of South Africa's ruling party and was a personal friend of Jacob Zuma, the country's current President. But he has recently been openly critical of South Africa's president.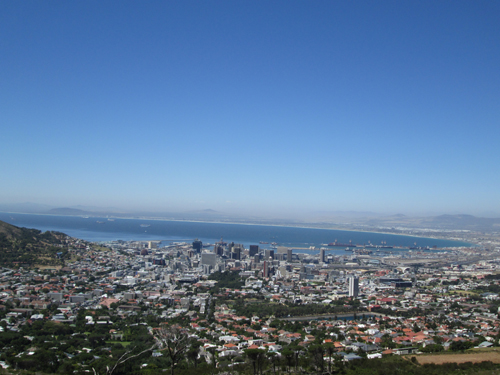 Mr. Malema very clearly articulates, in several speeches, the sentiments of South Africa's formerly oppressed citizens and their frustration at the slow rate of economic progress in their nation. He makes no secret of his preference for a socialist state where government owns the land, pointing to examples in Singapore as instances of workable state institutions. He also rejects the concept of private property rights as a colonial concept that was used to oppress the native people of Africa. However, he rejects Zimbabwe as a future model for South Africa.

It is perhaps a coincidence that during the independence negotiations for what was then Southern Rhodesia, Robert Mugabe stated in an interview his preference for a socialist state in the nation that became known as Zimbabwe. Mr. Mugabe had attended Fort Hare University in South Africa and was well acquainted with many in South Africa's anti-apartheid movement. In 1955, that movement adopted a Freedom Charter that called for the nationalization of South Africa's mines and banks. EFF leader Malema has decried the fact that South Africa's post-apartheid leaders have betrayed the Freedom Charter, and their own principles as well.

In the early 1950s, some of apartheid's opponents travelled to Eastern Europe and witnessed firsthand the equivalent of an economic miracle inside post-WWII socialist nations rebuilding their economies. The evidence of their economic achievement in developing industries and building homes appeared irrefutable, and served as their future economic model. They had high praise for the architect behind socialist Eastern Europe's economic rebuilding, Dr. Oskar Lange. However, Lange reinterpreted Marx's treatise and used "free-market" West Germany as his economic model.

To rebuild Eastern Europe's devastated economies, Dr. Lange seized upon economic precedents from Germany that was also rebuilding from the destruction of the war. A small number of very large German industries were privately owned and provided a viable model for Dr. Lange to rebuild Eastern European economies. He had access to experienced managers who had previously worked for private companies and who could oversee production in new state-owned companies. For many years, the pace of technological change was slow, and socialist managers could easily adjust to this slow change, but not to the rapid technology change that finally undid socialist economies.

"Several of South Africa's anti-apartheid forces preferred Marx's Communist Manifesto that urged the proletariat to rise up and seize the means of production, South Africa's mines and banks. Today, South Africa's mines and banks are still privately owned."

Several of South Africa's anti-apartheid forces preferred Marx's Communist Manifesto that urged the proletariat to rise up and seize the means of production, South Africa's mines and banks. Today, South Africa's mines and banks are still privately owned. Some former anti-apartheid stalwarts have suggested that Nelson Mandela may have sold out to business interests and foreign investors. However, Mr. Mandela was still a prisoner when the socialist economies of Eastern Europe and the USSR unravelled. Even Communist China had already begun to recognize and acknowledge the need for private initiative in some segments of the nation's economy.

One of the central policies of the Mandela government was land redistribution, which according to Mr. Malema is proceeding at a very slow pace. One of the sins of the apartheid regime was the confiscation of black-owned farms through forcible eviction, giving the farms and land to white people. Many decades later, South Africa's government seeks to correct that violation of property rights, as well as offer monetary compensation to transfer ownership of farms that were never owned by black people. Some white farmers have voluntarily transferred ownership of their farms to their black employees.

At the present time, South Africa's official rate of unemployment is high and Africa's former leading economy has dropped to 3rd place behind Nigeria and Egypt while receiving foreign aid from several developed nations that include Canada (C$566 million per year). Until the second term of then-U.S. President Ronald Reagan, America had been reluctant to impose economic sanctions on South Africa to force political change, the result of South Africa's apartheid regime being an anti-communist ally. However, by the mid- to late 1980s, political and economic change in Eastern Europe was in progress.

By 1985, those who ran South Africa's government agreed that South Africa needed to evolve politically and economically beyond apartheid. So began secret negotiations between the African National Congress and South African government officials. While still a political prisoner, Mr. Mandela had been relocated to more comfortable accommodations, and on several occasions, he actually met with then-South African President Botha. Changes in the world economy that included the emergence of the information and telecommunications sector that required a massive educated workforce offered possible new economic development in a future South Africa.

However, as French political theorist Alexis de Tocqueville warned in the late 18th century, the most dangerous time for a bad government is when it seeks to change its ways. In the case of South Africa, leaders of other nations had much to gain politically by portraying themselves as the agents of political change in that nation. Economic sanctions could allow some foreign political leaders to achieve such an end, while the negative impact on South Africa's economy would make that nation into a recipient of foreign aid.

Foreign aid allows the government of an economically powerful donor nation to establish influence inside the halls of political power of the government of a recipient nation. Almost 25 years ago, when then-South African President F.W. De Klerk visited Washington, President Clinton initiated discussions about a foreign aid package as South Africa transitioned from political apartheid. Indeed, several African journalists have decried foreign aid as enabling bad government.

In his treatise entitled Africa Betrayed, Dr. George Ayittey provides details about how African political leaders have ruined and pillaged African economies. In South Africa, EFF leader Malema has addressed parliament suggesting that the South African president has failed to provide proper leadership and harmed South Africa's economy. He also criticized several ministers who live lavish lifestyles at public expense of having mismanaged their departments. Donor nations remain silent and continue their payments while a political leader who articulates the sentiments of a sizeable segment of South Africa's population suggests that economic apartheid remains essentially intact with little real change.

Leaders in South Africa and elsewhere on the continent need to find a better way forward than endless reliance on ineffective foreign aid. Over the past 20 years, South Africa has undergone a massive brain drain of people who could otherwise have developed vibrant businesses in that nation's economy. South Africa now faces the challenges of developing entrepreneurship on a massive scale in order to ensure their economic future.
From the same author

▪ The Politics of the Energy East Oil Pipeline across Quebec
(no 339 – February 15, 2016)

▪ Private Initiative and Innovation to Produce Food with Minimal Water
(no 339 – February 15, 2016)

▪ The Free Market and Ride-Sharing Applications
(no 338 – January 15, 2016)

▪ Business Lessons from the Underground Economy and the Ultimate Competitor
(no 338 – January 15, 2016)

▪ State Grinch Impedes Christmas Travel Plans
(no 337 – December 15, 2015)

▪ More...

First written appearance of the word 'liberty,' circa 2300 B.C.

Le Québécois Libre Promoting individual liberty, free markets and voluntary cooperation since 1998.