This is a problem, and like every other problem under the sun, it quite obviously requires a government solution. Left unregulated for far too long now, the market for love has failed to fulfill everyone's needs. Clearly, a government agency must be set up forthwith to correct the large and, what the hell, probably growing affection gap between the loved and the unloved. I propose that this government agency be called the Department of Enforced Affection and Total Happiness―or DEATH for short.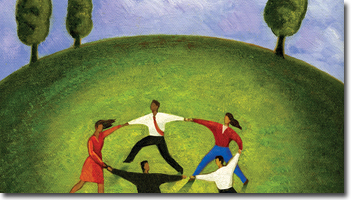 Instead of the present haphazard distribution of love, DEATH would undertake a more socially just redistribution of love, for the good of all. Off the top of my head, the motto of this new agency could be something like, "From each according to his ability to love, to each according to his need for love." Those who now receive more than their fair share of love would have some of this love taxed away, and redirected toward those who have up until now been unable to afford enough love. Of course, we wouldn't call it a tax―people dislike taxes―we'd call it a "contribution." Similarly, those who have a lot of love to give would be "encouraged" to spread it around.

Now, for DEATH to be able to do its job, another, subservient agency would be required to collect data on everyone's incoming and outgoing love―their love revenue and love expenses, so to speak. This agency could be called the Affection Registry and Selective Enforcement, or ARSE. ARSE would be tasked with keeping track of all incoming and outgoing payments of love between individuals, spot checking for filing errors, and auditing the love accounts of those whose affection forms look suspicious. It would, in short, be responsible for patrolling the black market in love that would surely develop as certain unscrupulous individuals sought to continue giving and receiving love as they saw fit, without the benefit of the watchful eye of the state.

This total redistribution of love would, of course, spell the end of monogamy. Many people seem to favour this type of monopolistic arrangement, but we cannot allow ourselves to be distracted by such petty concerns when it is clearly unfair for some people to have a steady diet of love and affection while others' needs go unmet. Not that polygamy is any better; it is even more exclusive than monogamy, with one man monopolizing several wives. Indeed, it is exclusivity that is the problem, and so henceforth, all love relationships will be non-exclusive by government decree. Anyone caught carrying on an exclusive relationship will be sentenced to DEATH―I mean, will be sentenced by DEATH―to no less than six months of enforced relief work bringing affection to the most needy. (Bring us your ugly, your smelly, your ill-mannered masses.)
Some will undoubtedly balk at these constraints. They will argue that those who receive more love than others might in fact deserve more love, that through their behaviour they may have actually earned it, while those who receive less might by and large deserve their lot as well. For instance, they might say, a faithful, adoring, supportive spouse rightly tends to receive more love than a cheating, negligent, abusive one. A parent who nurtures and properly prepares his child for the trials and tribulations of life naturally gets more heartfelt reciprocation in his old age than one who endeavours to keep his child dependent and insecure.